BOSS Solutions is excited to announce that we have been named as a Top 20 Most User-Friendly Help Desk by Capterra, an affiliate of Gartner. The report provides a look at the most user-friendly help desk systems based on their usability, customer services provided, and customer reviews View Report .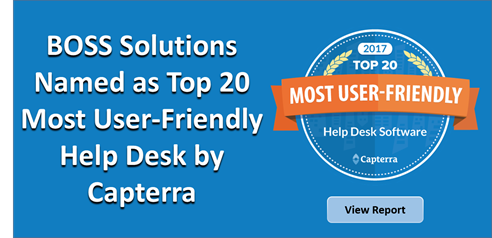 Earlier in the year Capterra also named BOSS Solutions as a Top 20 Most Affordable ITSM Software provider.
Help Desk /Service Desk ITSM software is a must for any IT team handling service requests for an organization. The requests may range from simple ones like resetting passwords to managing critical issues like major server outages that may end up paralyzing the operations.
The Help Desk evaluation was scored on the following criteria and BOSS Solutions scored in the top group in every category.
Read More