The global consulting company Pink Elephant has determined that 2018 is the "Year of Integrated Service Management" and highlighted the opportunity for real synergy between best practices, well configured tools and properly organized and motivated people. BOSS Solutions agrees with this direction. Our company specializes in integrated service management solutions, incorporates best practices, and provides customers the best level of support to achieve business value.
Forward thinking IT organizations have adopted this strategy to provide their clients with an exceptional level of service and process improvements. If your IT organization is struggling with fragmented insights, silos of automation or broken processes , Integrated Service Management solutions can help address these issues across the entire organization.
BOSSDesk Integrated Service Management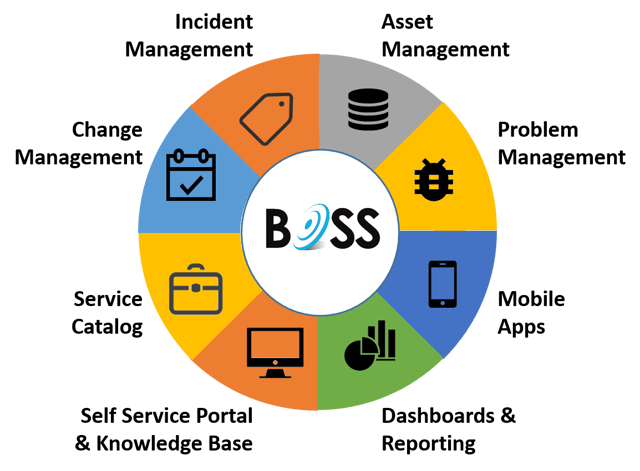 One way that this can be easily accomplished is by creating service catalogs that are integrated with other system resources. Services and requests can be automated and offered selectively from a single portal and no coding skills are needed to construct workflows; be they simple or complex. Service Catalogs can be integrated with routing rules, calendars, schedulers and other available resources to provide users with improved workflows.
Many IT organizations provide their client departments with process improvements across a wide range of applications from providing Onboarding applications for Human Resources to simplifying Equipment Return requests for Operations, and scheduling Facility Requests for Public Service departments. These enhancements have generated proven results for the client organizations by reducing the time and cost of delivering services while greatly improving the user experience.
BOSS Solutions offers such integrated service management capability with BOSSDesk an ITIL Service Desk on the cloud.
Read More