In the modern era, the Service Catalog has redefined the way services are offered and delivered within an organization. The Service Catalog provides an easy means to improve operational efficiency and help keep service delivery costs low. All service offerings are delivered and managed using a single portal and this dramatically improves service delivery and user satisfaction.
An ITIL based Service Catalog offers the ability to manage critical information in a central repository accessible by both the IT department and the business. The information contained within the Service Catalog relates to all Services provided by the IT department to the Business. The Service Catalog can be applied across all platforms, environments or geographical locations of any organization. ITIL V3 standards advocate service catalogs as a best practice requirement for service management.
Service Catalogs offer a customer facing view of all the service and product offerings for all the departments within an organization. They enable organizations to promote these offerings in a structured and easily navigable manner. A user friendly service catalog encourages and enhances customer self service .It allows you to empower your customers with Self-Service.
MULTIPLE SERVICES ON A SINGLE PORTAL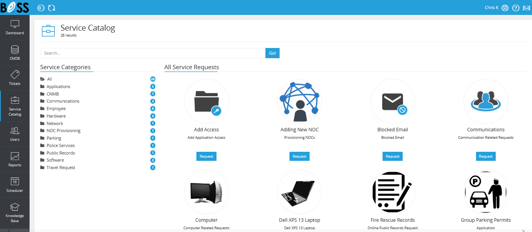 A well thought out and managed service catalog provides a great self-service opportunity for customers. It offers a single portal to present all service and product offerings of the organization and a standardized approach to complete all requests . Services and requests can be offered selectively and efficiently from one portal. It allows customer expectations to be managed to ensure high levels of customer satisfaction.
The first step in developing an IT service catalog for an organization is to put together an inventory of all the services critical to the business. This includes incorporating services beyond IT like Employee Onboarding or Citizens Portals .
Read More